24.08.2004 - Nature is calling...endlich
Heute geht's endlich in die Natur:
Wir checkten zeitig im Hotel aus, suchten noch einen Supermarkt auf, um uns mit Vorräten einzudecken und schauten, dass wir vor der großen Hitze ins Valley of Fire kamen.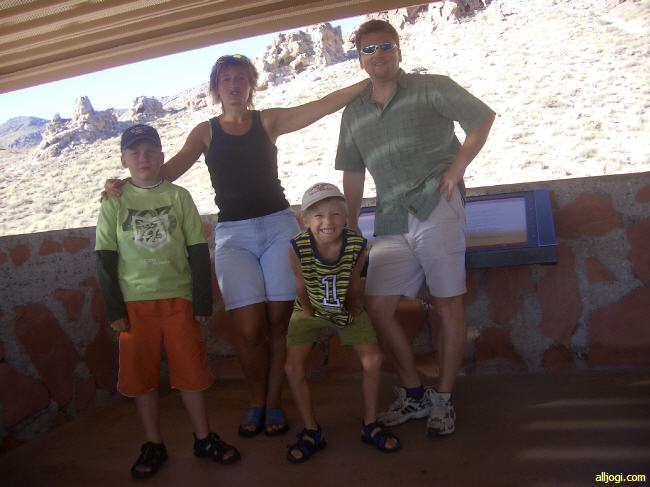 das 1. Foto unserer Kleinen
Die Kinder waren auf Anhieb von den Felsen und Beehives begeistert und kletterten wie verrückt auf den Steinen herum. Damals durfte man auch noch den Arch Rock aus der Nähe betrachten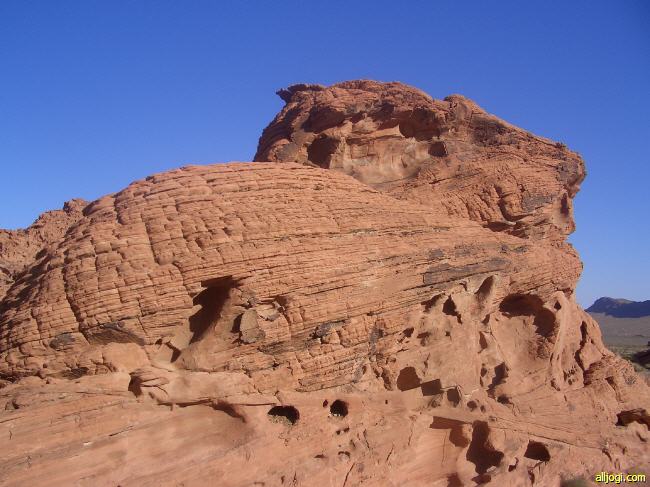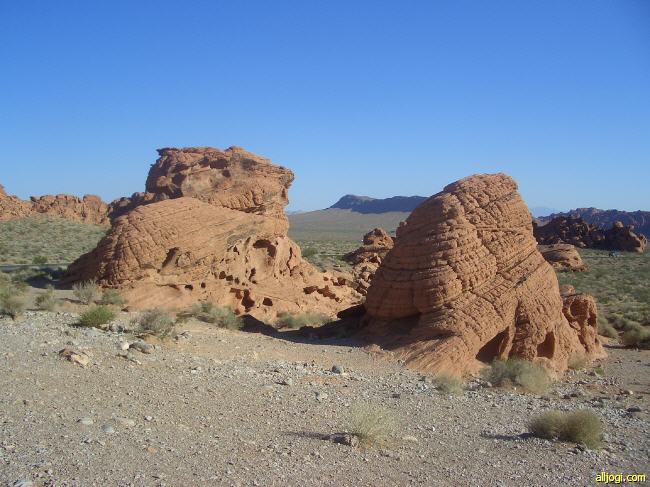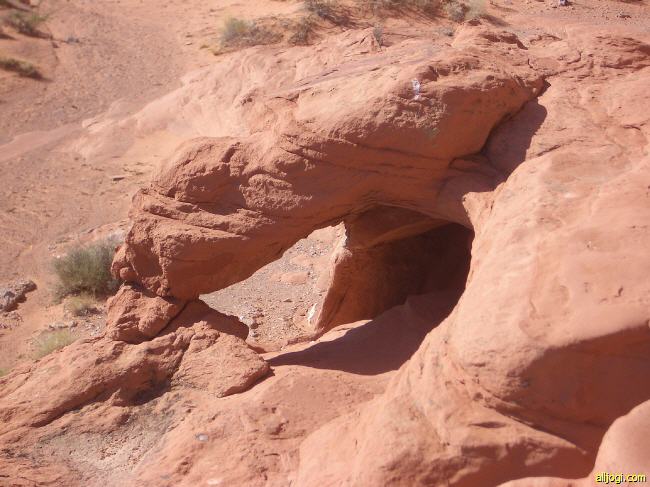 Aber die Sonne brannte uns schon ganz schön auf unseren Pelz, Valley of Fire im August halt!!!
Doch wir ließen uns nicht davon abhalten, noch die kurze Wanderung zu den Mouse`s Tank, vorbei an so schönen Felsformationen wie Raumschiff Enterprise, zu laufen. Jeder war bewaffnet mit einer Flasche Wasser, und das war gut so, denn die Flüssigkeit verdunstete bereits beim Trinken!!
Ja, so eine Klimaanlage im Auto bekommt hier echt eine ganz andere Bedeutung wie in Germany.

Nach einem schönen Picknick beim Petroglyph Rock und dem ersten Kennenlernen der sehr neugierigen Chipmunks, liefen wir auch hier noch den Self-Guiding-Trail um den Felsen herum um dann die Weiterreise in unser nächstes Motel, das Best Western Zion Park Inn in Springdale, anzutreten.
Unterwegs machten wir noch einen leckeren Boxenstop beim Denny´s in St. Georg.

By the way, hier war das Zimmer so klein, dass kein Rollaway mehr Platz hatte und unsere Kurze auf Decken gebettet auf dem Boden schlafen durfte!!
Aber der Pool war sagenhaft- genauso wie das Wetter- nur, wir waren die einzige family hier und die anderen Damen und Herren fühlten sich etwas gestört von uns. Ja, da muss man halt durch, ich mein, die Anderen!!!

Und, wie gesagt, in unserer 1. Nacht hier in den USA machten wir noch einen Fehler:
Wir stellten das Rollaway direkt vor die Klimaanlage. Das heißt, der im Bett bekommt die ganze Nacht die eisige Luft ab – gepaart mit Jetlag bedeutet dies: Zwei Tage später haste einen dicken Schnupfen!!! Und den hat jetzt unser Großer. Aber es blieb bei einem Schnupfen, und das ist ja bekanntlich noch keine Krankheit.
@lljogi 2017 - Träume nicht dein Leben, lebe deinen Traum